The Mulholland Institute Library is a public service
In 2010 the San Fernando Valley (CCD) population stood at 1,749,894, making it the fifth largest identifiable metro "place" in the nation when compared to the top ten U.S. cities.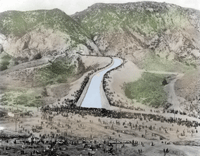 The Valley has a greater populatian than Philadelphia, Phoenix, San Antonio, San Diego, Dallas or San Jose. It comprises 48 percent of the land in the City of Los Angeles, and 45 percent of the population. The City of Los Angeles is bifurcated by the Santa Monica mountain range, which separates its central city area from its valley area to the north.
To the south the city is jurisdictionally connected to the Port of Los Angeles, and to the Wilmington/San Pedro/Harbor City communities, by the slender "Shoestring Addition" of 1911. Most of the Valley was annexed by Los Angeles in 1915, as a means to gain access to Owens Valley water flowing from the newly-constructed Los Angeles Aqueduct. The aqueduct termintated in Sylmar in the northeast valley. As it turned out, the Valley is situated over a huge underground aquifer that the city needed for storage; and the Valley's massive agricultural range stood to benefit greatly from access to more water. The 1915 vote for annexation was 681 to 25.
Annexation Map with Dates - City of Los Angeles PDF
San Fernando Valley - L.A.'s Aquifer - Detailed Information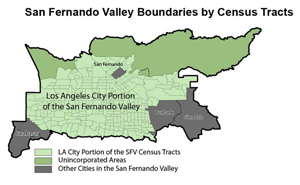 The San Fernando Valley Census County Division rose out of a movement to better define the Valley area of Los Angeles City and County. The area is geographically distinct, but is made up of several cities and portions of cities including the cities of Burbank, Glendale, San Fernando, Hidden Hills and Calabasas. The Valley is equal in size to seventy percent of the land area of the City of Los Angeles.
Those who helped make this information available
Our thanks go out to the many organizations and government offices who came to our assistance—seeing the importance of better defining this vibrant region. Congressman Brad Sherman and his professional staff member Michael Tou; Professor Dan Blake of Cal State Northridge; Councilmember Wendy Greuel, and the rest of the Los Angeles City Council for their unanimous support; Supervisors Zev Yaroslavsky and Michael Antonovich, and the Los Angeles County Board of Supervisors for their unanimous support; Jamey Christy of the U.S. Census Bureau; the Valley Industry and Commerce Association for sponsoring the original initiative; and the Valley Economic Alliance for helping to see it through, working with our cities and with the Mulholland Institute in the establishment of the San Fernando Valley Council of Governments.
Ten Largest U.S. Cities - 2010 - Valley Compared
City/Metro Area
Population
Area Sq Mi
New York NY
8,405,837
302.64
Los Angeles CA
3,884,307
468.67
Chicago IL
2,718,782
227.63
Houston TX
2,096,790
599.59
San Fernando Valley CA
1,749,894
345.80*
Philadelphia PA
1,526,006
134.10
Phoenix AZ
1,447,626
516.70
San Antonio TX
1,327,558
460.93
San Diego CA
1,307,402
325.19
Dallas TX
1,197,787
340.52
San Jose CA
1,197,787
176.53
*Includes nominal areas of Los Angeles County outside the boundaries of the City of Los Angeles, including a large portion of Angeles National Forest